CURRENT SPLICERS IN STOCK HERE STARTING FROM JUST £10.99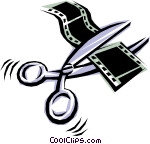 [ EXPRESS CHECKOUT ]
PURCHASE ANY OF THESE SPLICERS BELOW USING THE EXPRESS CHECKOUT OPTION AND ONLY PAY £3.00 PACKAGING & POSTAGE (U.K. ONLY)
*** ALL ITEMS ON THIS PAGE COME WITH EITHER A 3 MONTH OR 6 MONTH GUARANTEE - SEE BOTTOM OF PAGE FOR DETAILS***
¨¨CEMENT SPLICERS - DUAL MODELS FOR ACETATE STANDARD 8MM / 16MM (NOTE: NOT FOR POLYESTER 16MM/STANDARD 8MM)¨¨
SIEMENS SCHMALFILMTECHIK KLEBEPRESSE SF.ZK 68.1 CEMENT SPLICER - £19.99
For acetate Standard 8mm & 16mm film stocks. Includes: Original Box but no instructions.
¨¨CEMENT SPLICERS - '3-WAY' ACETATE STANDARD 8MM/16MM & SUPER 8MM (NOTE: NOT FOR POLYESTER SINGLE-8/SUPER 8MM/STANDARD 8MM/16MM)
DIXONS UNIVERSAL MOVIE CEMENT SPLICER - £24.99 (SOLD)
3-Way cement splicer for acetate Standard 8mm, Super 8mm & 16mm films. Includes: Original Box & Instructions. Removable Scraper.
¨¨¨¨¨¨¨¨¨¨TAPE SPLICERS - SUPER 8MM & SINGLE-8 ONLY (NOT STANDARD 8MM)¨¨¨¨¨¨¨¨¨¨
MINETTE MODEL I SUPER 8MM TAPE SPLICER - £24.99
Note: Manual not included as the original special Minette tapes originally required for this model have been discontinued. But it can be used with Super 8mm PressTapes which are now manufactured.

LPL 712E (MODEL 2) SUPER 8MM PATCH TAPE SPLICER - £24.99
Can be used with any of the Wurker, Agfa etc. Super 8mm tapes. Instructions attached to underside of cutter.
BOOTS DRY FILM SPLICER - £24.99 (SOLD)
Super 8mm tape splicer. Includes Original Box & Instructions. Also includes 10 Free Tapes.
AGFA KLEBEPRESSE F 8S AUTOMATIC SUPER 8MM TAPE SPLICER - £29.99
Our biggest selling splicer
CIR SUPER 8 ADHESIVE TAPE SPLICER - £49.99
Super 8mm roll taper splicer with a plastic chassis.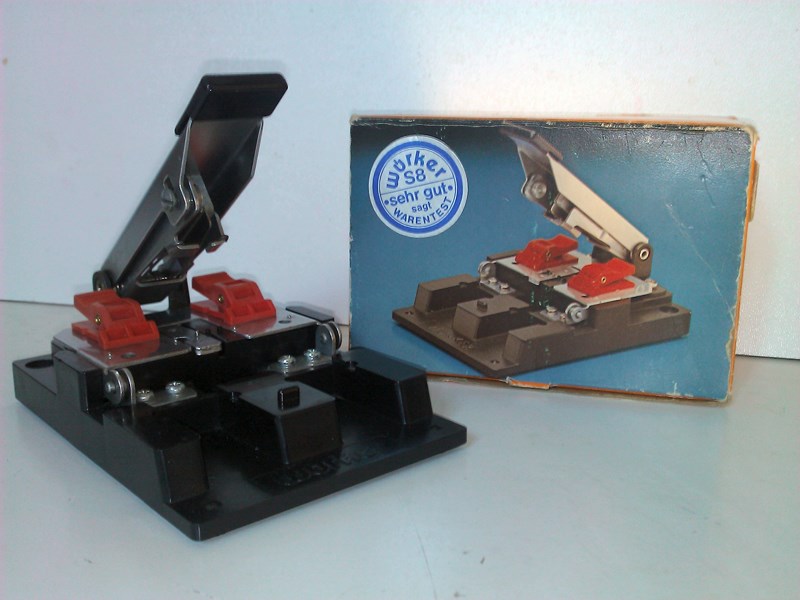 WURKER S 8 TAPE SPLICER (CHOICE OF PROFESSIONALS) - £69.99
The ideal splicer for SUPER 8MM and SINGLE 8 acetate and polyester films. Includes: Copy of Instructions, original box. Even though this is a Wurker it is compatible with most Super 8mm splicing tapes not just Wurker splicing tapes. We at The Old Film Company choose Wurker S 8 Splicerís for all our Super 8mm splicing needs.
¨¨¨¨¨¨¨¨¨¨AUDIO TAPE SPLICERS¨¨¨¨¨¨¨¨¨¨
EAGLE PRODUCTS TAPE SPLICER - £19.99
For Audio tape only. Includes original box but no instructions.
**********************************************************************************************************************************************************
THE OLD FILM COMPANY GUARANTEE CERTIFICATE

All equipment is stripped and checked plus in the case of cine cameras a test cartridge is run through them, and in the case of projectors a number of films are run through them before we allow any item to be listed for sale. But as these Cine cameras, Projectors etc. are in some cases over 40yrs old they may still unexpectedly fail from time to time which no amount of stripping and checking can foresee. Any individual item with a purchase price of £90.00 or more comes with a 6 month Guarantee, any item below this purchase price comes with a 3 month Guarantee starting from the date of purchase date.
In case of a claim, the equipment should be returned to The Old Film Company via the customerís chosen Postal Service along with the Guarantee Certificate. Strictly no callers. The customer pays for return delivery costs and will be responsible for the goods. If item(s) are lost or damaged in transit it is the customerís responsibility to make a claim with there chosen Postal Service.
This Guarantee does not cover defects caused by incorrect handling, unsuitable storage, transport damage, tampering, or normal wear (Belts, Bulbs etc.). Claims for consequential damage, implied losses, film, batteries, magnetic tapes, etc. are excluded. The Old Film Company will inspect the product to be certain all parts are included and no abuse, misuse or user negligence was responsible for damages which caused the return.
If the returned item(s) is found to have an inherent fault then it will either be repaired or if not possible it will be replaced and the customerís return delivery costs will also be refunded.

Please note images may not be of actual product and might be slightly different in some cases