KODAK TRI-X 7266 BLACK & WHITE REVERSAL SUPER 8MM FILM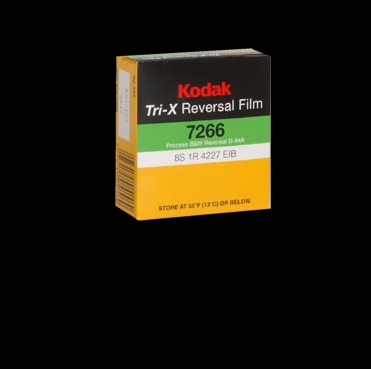 [ EXPRESS CHECKOUT HERE ]

*********
£56.99
*********
KODAK TRI-X REVERSAL FILM (7266)

This high-speed film is intended for use under conditions of low-level illumination such as night sports photography. It is not suitable for bright sunlight unless the camera can provide proper exposure (Automatic or Manual)

Tungsten (3200K) - 160
Daylight - 200

New KODAK TRI-X Reversal Film 7266 offers finer grain and increased sharpness

# LOW-LIGHT SITUATIONS.
# DEEP, OPAGUE BLACKS.
# STARK WHITES.
# GRAINY FILM STOCK.
# 'NOSFERATU' FEEL.
# GOOD 'HORROR' STOCK.

Please Note: We do not keep Tri-X in stock so please allow 1 to 2 weeks for delivery of your order.