KODAK VISION 3 500T SUPER 8MM COLOUR NEGATIVE FILM (7219)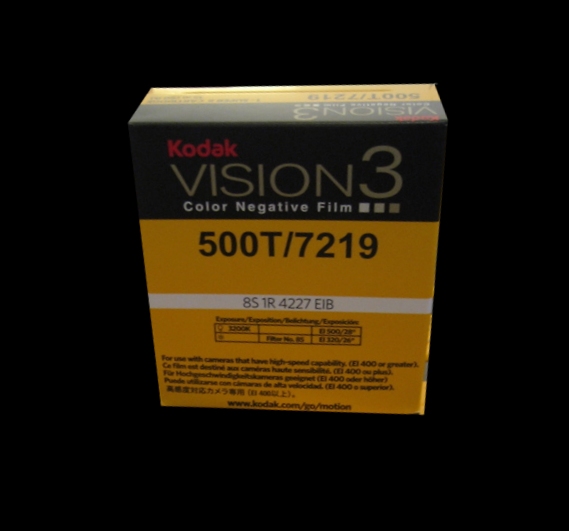 [ EXPRESS CHECKOUT HERE ]
********
£54.99
********
KODAK VISION 3 500T SUPER 8MM NEGATIVE FILM (7219)


The first in a new family of films, VISION3 500T Film gives you more control and flexibility at every phase of the filmmaking process-from capture through post, in both digital and traditional workflows.

VISION3 500T Film retains the overall look and image structure of KODAK VISION2 Films-then adds technical innovations that provide improved exposure latitude-at both ends of the curve. Proprietary, advanced Dye Layering Technology (DLT) gives you noticeably reduced grain in shadows, so you can shoot at higher speeds, with less light, in darker corners, and know you can capture an amazing amount of shadow detail with noticeably lower grain.

VISION 500T Film also features extended highlight latitude, so you can follow the action into bright light-in a single shot-without worrying about blown-out details. When the film is scanned and digitized, you'll find you can recover two stops of highlight detail. This technology is enabled by the use of sub-micron imaging sensors.

VISION3 500T fits seamlessly into your digital workflow. And when scanning low-light scenes, VISION3 500T Film yields higher signal-to-noise ratios for unprecedented image quality.


Tungsten (3000 K) - WRATTEN Gelatin No. 82B - Exposure Index 320
Tungsten (3200 K) - No Filter - Exposure Index 500

# IDEAL FOR LOWER LIGHT LEVELS.
# CONTEMPORARY LOOK.
# TIGHTER GRAIN.
# HUGH LATITUDE.
# ACCURATE COLOUR REPRODUCTION.
# ARE THE EXACT SAME MOTION PICTURE STOCKS OFFERED IN 16MM, 35MM AND 65MM FORMATS.
# GOOD SHADOW & HIGH DETAIL FROM F2.8 TO F16.
# SHOWS SLIGHTLY MORE GRAIN THAN 200T.
# INCREDIBLE DETAIL.
# GOOD DEPTH AND LATITUDE.
# GOOD EXPOSURE ON NIGHT EXTERIORS.
REVEALS THE ENTIRE PALETTE OF THE NIGHT TIME LANDSCAPE IN A DEPTH THAT WAS ONCE IMPOSSSIBLE.
# NEARLY AS GOOD AS THE HUMAN EYE AT SEEING IN THE DARK.
# BENEFITS FROM A HALF-STOP OVER-EXPOSURE.
# SUBTLE GRADATIONS OF LIGHT & DARK ARE CAPTURED OVER A BROAD RANGE OF EXPOSURES.



PROCESSING
Process in Process ECN-2
Please note we do not offer a Negative processing service but a number of commercial motion-picture laboratories provide a processing service for this film stock.